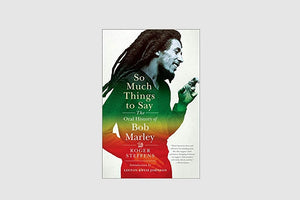 So Much Things to Say: The Oral History of Bob Marley
Regular price
$17.95
$0.00
Unit price
per
Roger Steffens, the world's leading reggae scholar, spent forty years interviewing Bob Marley and his closest confidants. This is the definitive telling of Bob Marley's life that will reshape our understanding of this legendary performer.
Steffens toured with Bob Marley for two weeks of his final tour of California in 1979 and the music icon was the first guest of Steffens' award-winning radio show. In So Much Things to Say, Steffens draws on a lifetime of scholarship to tell the story of Marley's childhood abandonment, his formative years in Trench Town, his seemingly meteoric rise to international fame and his tragic death at 36. Weaving together the voices of Rita Marley, Peter Tosh and Bunny Wailer—as well as band members, family and friends—Steffens reveals extraordinary new details, dispels myths and highlights the most dramatic elements of Marley's life; his psychic abilities and his overriding commitment to the peace and love message of Rastafari.
MIM's Artist Gallery includes an exhibit of The Wailers that features a partial Yamaha D9000 drum set used by drummer Carly "Field Marshal" Barrett, and a Kent electric bass guitar bassist Aston "Family Man" Barrett played in the group.
464 pages; 5.5 x 8.25 inches; paperbound
---
Share this Product
---