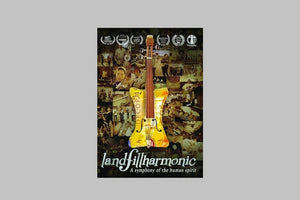 Landfill Harmonic: A Symphony of the Human Spirit (DVD)
Regular price
$26.00
$0.00
Unit price
per
The documentary Landfill Harmonic follows the poignant story of the Orchestra of Recycled Instruments of Cateura, an award-winning youth orchestra from Paraguay. Creatively repurposing items from the landfill is a practical art long since mastered by the residents of Cateura, but when the story of this musical group that plays instruments made entirely from garbage goes viral, the orchestra is catapulted into the global spotlight. Under the guidance of idealistic music director Favio Chávez, the orchestra must navigate a strange new world of arenas and sold-out concerts.  
In 2013, this youth orchestra came to MIM for a week-long residency and their U.S. concert debut in the MIM Music Theater. The film is a testimony of the transformative power of music and the resilience of the human spirit; the DVD also includes the official Landfill Harmonic trailer and the following extras: 
"From Cateura to Oslo: Like Taking a Rocket to the Moon"  "From the Landfill to Congress: Paraguayan Congress Honors Favio Chávez with National Award"
"A Legacy Secured: The Recycled Orchestra on Display at MIM" 
Running Time: 85 Minutes
NTSC Format
AC-3 Audio
Subtitles: English
Released in 2015
---
Share this Product
---