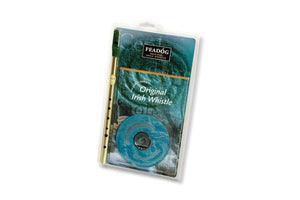 Feadóg Irish Whistle Starter Pack
Regular price
$35.00
$0.00
Unit price
per
Feadóg is Gaelic for whistle. This starter pack is the best available genuine Irish penny whistle imported from Dublin.
The Feadóg Brass "D" whistle is perfect for beginners or more experienced players. The starter pack includes a comprehensive tutor book that uses a step-by-step approach, music notation, and fingering for a variety of classic songs and dance airs. A CD accompanies the tutor book page by page to allow you to hear the songs being played.
In MIM's popular Ireland exhibit, world-renowned Irish folk-music traditions are comprehensively represented through a collection of fine instruments. With video clips of lively dance music and folk songs, and the decorative Irish motifs embellishing many of the displayed items, guests' ears and eyes are immersed in the musical landscape of the Emerald Isle.
Whistle made in Ireland
---
Share this Product
---